From 30 June 2019 the Galerie am Lieglweg in Neulengbach will show my new and newest works from the cycle "found Abstracts (cracks)".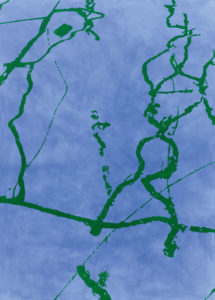 Ernest A. Kienzl, found abstracts: tarred cracks, blue | green 2, 2018
© Photo: Sonja Dürnberger
Are they macrographs of human veining? Or dried branches? Or simply drawings thrown down "gesturally" in mostly opulent colours? Or cerebral computed tomography images of synaptic energies? Or even cosmic rays? The current series of works found abstracts: cracks by Ernest A. Kienzl inspires at first glance various associations in the field of tension from representational concrete to abstract gestural.
in: Carl Aigner, FINDUNGEN UND TRANSFORMATIONEN, Zur Refiguration des Gestischen in den Recent Works by Ernest A. Kienzl, in the catalogue: Ernest A. Kienzl, found abstracts (cracks), 2019
GALLERY AT LIEGLWEG
Lieglweg 23, 3040 Neulengbach, Germany
Opening:
Sunday, 30 June 2019, 17.00 hrs
to the exhibition:
The gallery director Dr. Ursula Fischer in conversation with the artist Ernest A. Kienzl
exhibition period
30 June – 16 August 2019
Visit at any time, registration recommended
ursula.fischer@galerieamlieglweg.at
+43 676 413 46 47
Translated with www.DeepL.com/Translator