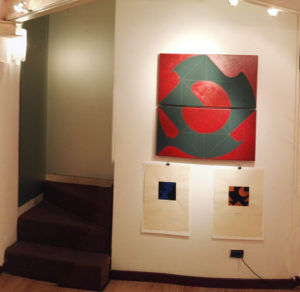 I´m proud to be participant in the exhibition "incontri d´arte" at the "Galleria ArtTime" in Udine (Italien) as a representative of a conceptual geometrical abstraction.
The interesting exhibition is open till to 2nd March 2017
In an article on FRIULIONLINE about my Position is reported:
Per almeno 15 anni l'artista austriaco Ernest A. Kienzl si è dedicato al caleidoscopico fenomeno del segno come elemento fondamentale della comunicazione. Le origini dell'arte di Kienzl vanno indubbiamente ricercate nell'arte concettuale, in cui l'idea creativa non deve necessariamente essere realizzata dall'artista, ma emerge comunque in primo piano. L'interesse dell'artista è rivolto alla percezione umana, ad ogni cosa con cui entriamo in contatto giorno dopo giorno, a far emergere come gli individui elaborano le informazioni e le loro impressioni. La composizione modulare, quasi criptica, matematicamente concepita, dei suoi disegni, quadri e lavori, dimostra un tutt'uno segmentato in numerose varianti. La contrapposizione dei segni e il contrasto dei colori si fondono in un'unica armonia nelle opere di Kienzl.